Just another Murphy's Law Day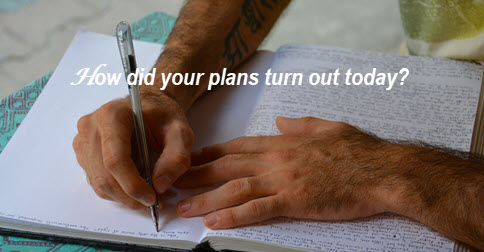 Isaiah 55-57 Murphy's Law states: "Anything that can go wrong will go wrong." Today after dinner, we stopped to get gas and waited and waited in line. When it was our turn, the gas pump froze, and the attendant had to close the line. 🙁 It was a Murphy's Law day: sometimes plans go astray. Why does this happen?
We, like the Israelites, are a people who make plans for today, tomorrow, and beyond, but often, just as today, our plans go astray. But, God's plans never do because, as He says: "my plans are not like your plans, and my deeds are not like your deeds, for just as the sky is higher than the earth, so my deeds and my plans are superior to yours." [Is 55:8] Later, the Prophet Jeremiah would again remind them that He knows what He has planned for them, "I have plans to prosper you, not to harm you. I have plans to give you a future filled with hope." [Jer. 29:11]
But too often, we face this fact: "there are many plans in a person's mind, but the counsel of the Lord will stand." [Prov 19:21] And, if truth be known, not always do our plans prosper. Again the words of Proverbs remind us: "Commit your works to the Lord, and your plans will be established." [Prov 16:3]
Did you have Murphy's Law day, or were your plans successful? Did you include God in your planning?