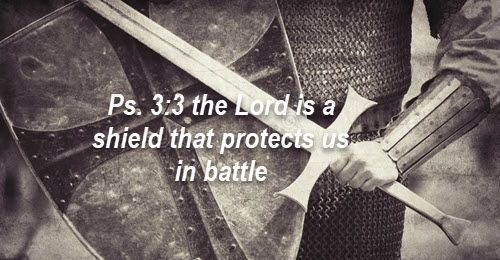 Ps 3-4, 12-13, 28, 55, The Lord, the Lord
Ps 3: But you, Lord, are a shield that protects me; you are my glory and the one who restores me
How comforting to know that the Lord is our shield as part of our spiritual armor. It isn't just a metal shield but the shield of faith that we must carry into battle. [Eph 6:16] It can deflect the enemy as he seeks to find the right weak point in our armor. The psalmist knows that when he goes into battle, he must not just have the entire armor covering his body but also that shield to carry. It can be lifted and placed in front of us to block the enemy's advance seeking to disarm and defeat us. The enemy can see the advancing army but can't see the individuals carrying the shield. Without it, we are vulnerable. With it, we can deflect the enemy's arrows.
Today, do as the Roman soldiers, dip your shield in the living water to extinguish the enemy's arrows. Then lift your shield of faith as you encounter the enemy and his advancement.