God Calls, God Anoints, God Commissions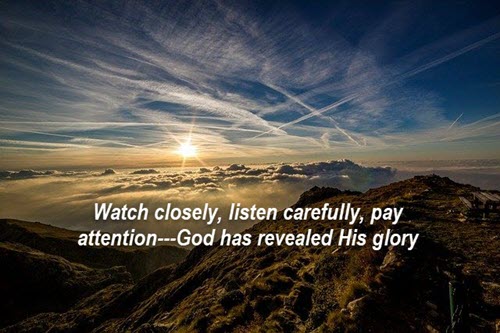 Ezekiel 1-3 Ezekiel was part of the 2nd deportation of Judah to Babylon. He was taken along with 10,000 others and replanted there. He was about 25 yrs old when that took place, and on his birthday, he should have been commissioned to be a priest. But, with no temple, it has not happened. Yet, how gracious God was to call him to Himself by a river. There, Ezekiel was given a front-row seat to the glory of God. After that, God anointed Ezekiel to be his prophet to the rebellious house of Judah. He gave him a scroll and said eat. Go to people and speak face to face. Thus Ezekiel was commissioned and would be faithful for many years.
Where did God give me a front-row seat to see His glory? In a thunderstorm! 🙂 God gave me His completed word and says essentially the same as He said to Ezekiel eat it and hide it in my heart. 🙂 Thirdly, he wasn't sent to people of unfamiliar language but to people who spoke his language. 🙂 Some would listen and heed, and others would remain hardened and bitter. God says, no matter what, you go and do not be afraid. God has called me, He has anointed me, He has commissioned me, and He has done the same for you. Where am I /are you working in His vineyard?