A Prophet's Pronouncement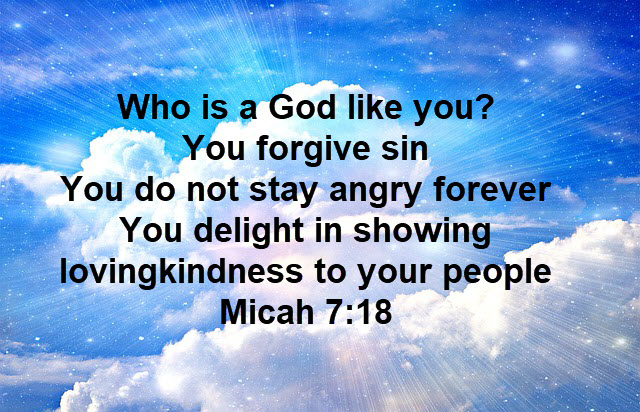 Micah 1-7 Life then and life now is not much different.  Micah, whose name means "who is like God or who is like Jehovah," may have earned his nickname from going about so much asking that question until the populace began to say, 'oh here comes old who is like God' because he targeted the same themes as Isaiah: know God, trust God, worship God, witness for God. 
Like Isaiah, Micah pronounced judgment upon the nations. He reminds them that God brought them out of bondage, and so he asks them how they should enter His presence. Is it with a thousand rams? The answer is no. Instead, "God really wants from us justice, love faithfulness and to live obediently before [Him]." [Micah 6:8]
Some were asking, "Where is the Lord your God?"[Micah 7:10], and the answer was and is that He is where He has always been; on his throne in the heavens. Remember, there is no God like God; he is incomparable, he pardons iniquity – therefore, there is hope—he does not retain His anger forever. He delights in His unchanging love—and He will have compassion once again upon you, His people. He will keep His covenant that He made to Abraham.
Have you forgotten God? Where is your God? Do you know HIM?