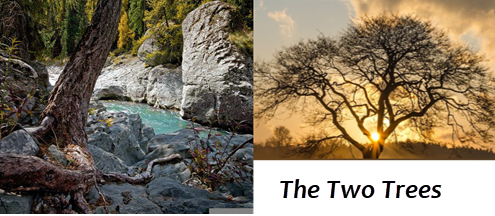 Jer. 17-20; Psalm 1 In God's garden, there are two trees. One is strong and produces fruit in its season. The other is barren and produces no fruit. The former are the trees with a robust root system because they drink from the living water. [Jn 7:38] The latter is a tree planted away from the stream; they are in the desert. This pictures the unbelieving of our world.
The psalmist and Jeremiah saw the barren trees and heard their scoffing. Like today, these trees said, I don't need the living water; I am ok here in the field, or what we hear today; what you believe is ok for you but not for me. They stand and watch and scoff, saying the tree by the river is strong now, but watch when the storms come. We will be strong, and he will falter. God calls them fools. Like the Pharisees of Jesus' time, the barren trees are spiritually blind. Jesus told them, you avidly study, thinking you have eternal life, but you miss the greatest gift of all; the very presence of the Messiah standing before you. [Jn 5:39]
At seeing all of this, Jeremiah is ready to throw in the towel, except for one thing; God's message was like a fire locked up inside of him, and he needed to release it.
There will always be the scoundrels and scoffers who plot and slander. But, he who chooses to meditate on God derives the strength to face another day and another spiritual battle. [Ps 119:23]