"Be Strong and Courageous"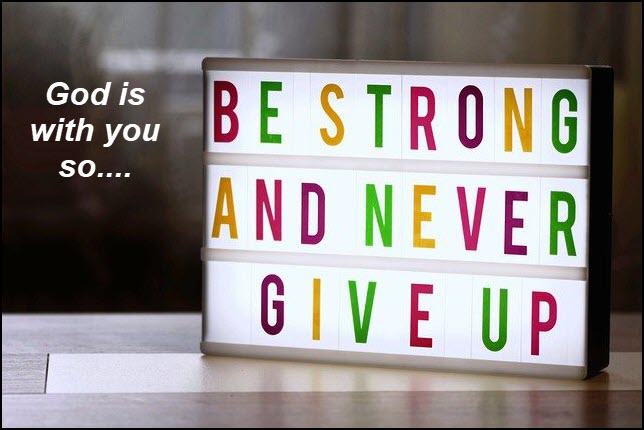 Joshua 1-3 What weakness do you face? What fears do you experience? What promises do you claim from God's Word to challenge those weaknesses? Joshua had seen the miracles that only a living God could perform for over 40 years. Yet, God knew that Joshua would face the same weaknesses that we do. Thus God reminded Joshua over and over: "Be strong and courageous; do not swerve to the right or the left."[Josh 1:7] God wanted Joshua to know that He could be trusted but also that Joshua needed, in turn, to trust Him.
We wonder what memories surfaced as Joshua recalled the land he had seen 40+ years before. Perhaps it was because of those memories that God knew he needed fresh eyes, ears, and a heart to understand. Therefore, God encouraged Joshua with these words: "I will be with you and never forsake you." [Josh 1:5] He had to remain "steadfast immovable always abounding in the work of the Lord." [1Cor 15:58] Just as God reminded him, so he reminded the Israelites, "Be strong!" It would be the Lord who would drive out the great and mighty enemies they would face.
When you recall your weaknesses and your fears, remember the words of Joshua: "Be strong and courageous; the Lord your God is with you wherever you go."[Josh 1]